Christmas Sheet Music: 3 Design Set
The inspiration for these lovely designs is from a set of Christmas decorations my Mother set on our piano every year. They were a part of our family's Christmas tradition, as special to my sister and myself as the decorating of the Christmas tree.
Use these lovely designs to create your own framed holiday heirlooms as mantle pieces or wall hangings.
These designs are available for the 6.25" x 10.25" and 7.75" x 11.75" hoops.
A thread chart for each is included.
Click an image for a closer look.
Pictures of the
original Christmas decorations
that inspired these designs.
The Finished Designs You Will Receive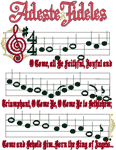 Adeste Fideles
6.25" x 10.25" Info
| | |
| --- | --- |
| Stitches: | 34,944 |
| Width: | 6.08" |
| Height: | 7.88" |
| Colors: | 7 |
7.75" x 11.75" Info
| | |
| --- | --- |
| Stitches: | 44,696 |
| Width: | 7.63" |
| Height: | 9.91" |
| Colors: | 7 |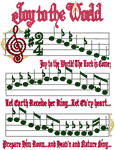 Joy to the World
6.25" x 10.25" Info
| | |
| --- | --- |
| Stitches: | 35,546 |
| Width: | 6.23" |
| Height: | 8.12" |
| Colors: | 7 |
7.75" x 11.75" Info
| | |
| --- | --- |
| Stitches: | 45,136 |
| Width: | 7.68" |
| Height: | 10.01" |
| Colors: | 7 |
Thread chart included
Product ID: 5177
Price: $45.00
You may also be
interested in: